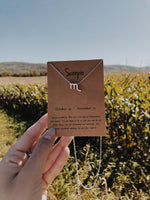 Hand Picked Perfection...
"I finally found a way to let everyone know exactly what to expect when they meet me." - Emily ♏
Shop

FIRST CLASS DELIVERY
All orders shipped within 48 hours. Orders within the domestic United States will be received within 5-7 days. Worldwide orders will take 8-10 days depending on your location. 
24/7 CUSTOMER SUPPORT
Award winning customer support team. Email us at: lavaliere19@gmail.com

SAFE & SECURE CHECKOUT
Bank standard, AES-256 bit encryption. Accept all payment methods. Apple Pay & Debit/Credit Cards.